What is the essence of money? The standard definition is "a medium of exchange, a unit of account, a store of value". These different aspects suggest that there will be   different coins survive long-term, which specialize in different aspects.
What does medium of exchange mean? Without money, people can trade goods. The problem is: If I want to buy shirt now, I need to trade it for something the merchant wants now. To make this exchange smoother, we use a medium between goods: Money. Money is something everybody wants anytime and is easy to transport. Cryptocurrencies have a lot of room for improvement in this aspect, but the technology is steadily evolving.
What does unit of account mean? Well, how much is Starbucks Latte worth? Somewhere between $2.80 in New Delhi to $9.82 in Oslo. The fact that I can specify such numbers shows another use of money. Bitcoin and others are not that great at this now, because of its big value changes. Over $1000 last November to $500 February. The fact that we even measure Bitcoin value with dollar tells you something. If crypto currencies actually free us from government and bank control, they might become a better global value denotation than dollars.
What does store of value mean? There are a lot more stores of value than money. Think of real estate, art collectibles, stocks, and jewels. Right now many people view crypto currencies as a high risk, high reward investment. Merchants on the other want stability instead of risk. They made their profit by getting coins, not due to price changes. Now they want to store that profit value in a way that the value is stable. Right now, they exchange Bitcoins to dollars immediately and with an exchange fee.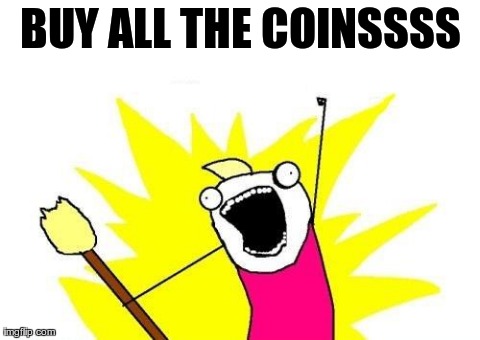 Why not one coin to rule them all? I can see at least two conflicting goals: A good medium of exchange is fast and easy to transfer and most economists believe a slight inflation is good for the economy. A good store of value better has a slight deflation or another way of yearly returns. Currently we are in a phase where a thousand flowers bloom. There will be a depression at some point and a focus on a smaller number of coins, such that most altcoins die. Until then we have a lot of room for experiments and speculation.
Note that there is more to distinguish between types of money than those three aspects. Branding is also important. We might be using a different money for online tipping than for buying food. Not because of their technical differences, but due to cultural differences.
So which coins are the best candidates so far? So far, Bitcoins are still ahead as there is much more infrastructure available for actually using it. However, most altcoins offer faster transfers than Bitcoin, so that might change. Peercoin aims for the store of value crown. Its energy-friendly proof-of-stake gives a low percentage return on stored coins and mandatory fees discourages moving it around a lot in small portions.